Watershed district honors D10 volunteer
Congratulations to Erin Spry, who received this year's Watershed Citizen Award from Capitol Region Watershed District. Spry voluntarily coordinated 2019's Como Lake Cleanup. The cleanup, overseen by the District 10 Environment Committee, attracted more than 60 volunteers last summer. They pulled more than 200 pounds of trash from the water and the shoreline.
Hamline Hardware closing
After serving St. Paul's Midway area for nearly a century, Hamline Hardware is closing its doors.
For the last 94 years the Hagen family and current owners Jim and Jan Gildner and their staff have strived to provide excellent products and outstanding service for the do-it-yourselfer and working professionals alike.
Hamline Hardware, now known as Hamline Hardware Hank, has been in business since 1926 when Walter Hagen started the business at its current location at the corner of North Snelling Avenue and Englewood Avenue. Over the next several decades two succeeding generations owned and operated the business, selling to the Gildners in order to pursue other ventures about 10 years ago.
Jim and Jan are now ready to retire and are conducting a storewide liquidation sale through March 28.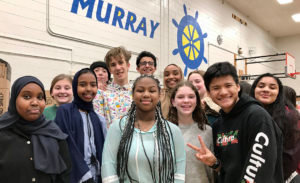 Murray Middle School's Science Fair is known as the largest science fair of any middle school in the state. This year was no exception.[/caption]