District 10 Como Community Council
By Michael Kuchta,
Executive Director
district10@district10comopark.org
Dock & Paddle
The restaurant in the Como Lakeside Pavilion opened June 5 with a new name – and at least one feature that doesn't exist anywhere else. Dock & Paddle (which is under the same management as last year's version of Spring Café) debuted in a scaled-back version in order to meet the outdoor dining limits required under state pandemic restrictions.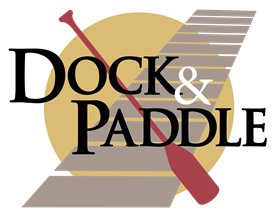 The initial menu started with grill fare such as sandwiches and burgers, a children's menu, and locally sourced salads. Dock & Paddle's biggest coup, however, is an exclusive arrangement with the Minnesota Craft Brewers Guild. The Guild will curate a rotating selection of brews from around the state. That means Dock & Paddle will serve beers on tap that are rare – or even impossible – to find in the Twin Cities. Dock & Paddle intends to open weekdays 11 a.m.-9 p.m. and weekends 9 a.m.-9 p.m.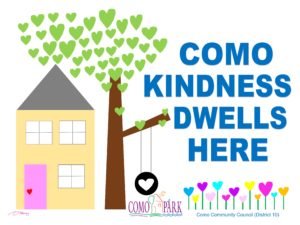 'Como Kindness' lawn signs
Our first printing sold out in the first weekend, but "Como Kindness Dwells Here" lawn signs are available once again. The design, by Como artist Monique Hussey, was chosen after the Como Community Council put out a community call for ideas.
After the district council covers costs, proceeds go to the Como Park block nurse program, which works to handle the health-care and everyday needs of neighborhood seniors. Suggested donation is $15. Order yours at: www.district10comopark.org/kindness.html
Bird sightings in park soar
There are a lot more bird species around Como Lake and the Como Woodland Outdoor Classroom than there used to be, according to a newly released report. The new bird survey, carried out by 15 community volunteers from February 2019 through January 2020, counted 109 species around the lake and 80 species in the Woodland. That's a big increase from 2006, when a similar survey counted only 84 species around the lake and 48 species in the Woodlands.
Get a full summary of the survey, including comparison tables, on District 10's website.
Updates to be aware of
• New Apartment Building: The city council was scheduled to vote June 10 on whether to approve rezoning 1015 Bandana Blvd. from B3 commercial to T3 traditional, to allow construction of a 152-unit apartment building atop the existing parking ramp. The city's Planning Commission voted 12-0 on May 1 to recommend the rezoning.
• Another Rezoning Request: The city's Planning Commission voted unanimously May 29 to recommend rezoning 978 Front Ave. from B2 community business to T2 traditional neighborhood. The property, at the southwest corner of Front and Chatsworth, now is mixed use – with a dog-training business on the first floor and residential on the second floor. The property's owners say the rezoning would give them more residential options than they have now. The request now goes to a public hearing and vote before the city council.
• Get Appointed: Saint Paul currently has 20 committees, commissions, and specialized boards that have vacancies just waiting for the right community volunteers. Some of the vacancies are set aside exclusively for members of the Como neighborhood. Take a look at the District 10 website for an overview of what's available, where to find out what the panels do, and how you could apply. Among the most timely: The Saint Paul Charter Commission is taking applications for nine vacancies: seven of them are four-year terms that begin Aug. 1, two are existing vacancies that run until July 31, 2022. Applications are due June 17.
• High School Gets Sign Variance: The city's Board of Zoning Appeals unanimously approved zoning variances May 18 that will allow Como Park Senior High School to mount new outdoor signs as part of the school's multi-year renovation. The main variance allows the school to mount a 10-by-12-foot version of its Cougar logo 60 feet up the chimney, facing the intersection of Rose and Grotto. The other, smaller signs would be the school's name and address over the main entrance. The signs are not lighted.
Online voting ends June 16
Community members in District 10 have until Tuesday June 16 to request a ballot and vote online in the 2020 board elections for the Como Community Council. Because of pandemic restrictions, there is no in-person voting this year. All voting is absentee.
Ballots can be requested at: www.district10comopark.org/ballot_request.html. Community members can request an online ballot until 5 p.m. June 16; voting closes at 7 p.m.
Renters, homeowners, and other residents of District 10 who are at least 16 years old can vote. Information about candidates is available on District 10's website.
Call or video into D10 meetings
District 10 board and committee meetings are continuing but, for the time being, they take place using technology rather than face to face. To obtain links, phone numbers, or other information to join a meeting remotely, send a request by email to district10@district10comopark.org. Or, call in your request to 651-644-3889.
Upcoming meetings:
• Annual meeting: June 16
• Land Use: July 1
• Neighborhood Relations: July 7
• Environment: July 8
All meetings begin at 7 p.m.