By JESSICA KOPP
Last summer the Hamline Elementary community sought out and applied for a full-service community school grant through the Minnesota Department of Education. The school was one of only a handful in the state to receive funding through this grant. The size of the grant ($132,000) has allowed Hamline to add staff, resources, and begin the exciting work of becoming a full-service community school.
What is it and what does it mean?
The American Federation of Teacher's website describes a full-service community school as, "… a place where teachers, families, community members and service providers can come together in coordinated, purposeful and results-focused partnerships. These schools become the center of their communities by providing the services to students, families, and neighbors that best serve their needs, while at the same time promoting stable, healthy neighborhoods."
Stated another way, a full-service community school removes barriers to learning by developing and maintaining partnerships that improve access to services and opportunities that support and enrich students and their families. It's a model that is responsive to the needs of a dynamic school community, where needs are routinely assessed and addressed.
At its best, a full-service community school enjoys a harmonious, reciprocal relationship with its neighborhood where assets and challenges are shared. In a place as diverse and energetic as the Midway, the opportunities for creative and meaningful partnerships are around every corner. When the neighborhood faces challenges, meeting them together as partners increase the chances for better solutions, lasting change, and positive outcomes for everyone who calls the Midway home.
Why pursue a grant?
For Charlotte Flowers, Hamline Elementary parent and primary author of the grant, the many hours spent writing the grant were a labor of love. "The Midway is so important to me, and the school is the center of everything I love about the neighborhood," she said. "When our school lost neighborhood kids due to housing instability, I felt powerless to help. We're all in community together with strengths and challenges—how do we create a space where families feel like they belong and are empowered to ask for what they need and to give what they can? This grant is a chance to build upon what is already a strong program at Hamline and model what it means to be responsible for each other in a community."
While Hamline Elementary has a lot of experience with partnerships, including the long-standing one with Hamline University, and current partners Hancock Recreation Center, Metro Social Services, and Reading Partners, someone needed to tie it all together, and size of the grant award made it possible to hire someone to do just that.
"This position is critical," Flowers said, "The addition of a full-time community liaison, someone who can use their professional skills to focus and make sustained progress, allows us to build the capacity to serve all families. We are fortunate to have found someone with an abundance of skills."
The future as a full-service community school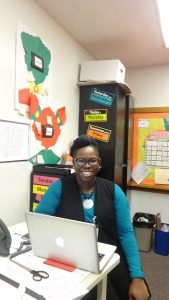 Just three months into her position as Hamline Elementary Site Coordinator, Aqueelah Roberson (photo right)  is hard at work doing the things she was hired to do: develop a framework that streamlines and maximizes current partnerships and allows the flexibility to explore and build new ones. She is also creating a high-quality family resource room and working with the Hamline community to deepen and broaden family engagement.
The scope of her work is big and so is the joy and drive with which she does it, "The work we are doing—it's about growing and planning ahead," Roberson said. "It's about how we create an atmosphere of partnership—a warm, welcoming space that invites and encourages family and community participation. In all our partnerships, we are growing together. My heart's passion is to see these relationships thrive and so we are exploring how to lift one another up and plant and nurture the seeds of shared responsibility and shared pride in the Midway."
One of those seeds has been planted in a new initiative with the Hamline Midway Elders. In the Reading Buddy program, older neighbors visit the school and are paired with third graders to read and talk together. The third graders will give back by learning to bake bread in the Hamline Church bread oven and share it with the Hamline Midway Elders.
This kind of exchange is something Roberson hopes to make a feature of the Hamline Elementary experience. "I want students to experience community beyond the classroom, to participate in service learning projects—to see how they are connected and valuable to this neighborhood and in the process, gain an understanding of how we all work together to build community."
A full-service community school is only as strong as its community, and Hamline Elementary is lucky to call the Midway home. Please contact Roberson, Hamline Elementary Site Coordinator, at 651-293-8715 to find out more about the work the Hamline community is doing and to talk about how you, your local business, organization, or community group can get involved. To learn more about full-service community schools, check out communityschools.org.