An inspired journey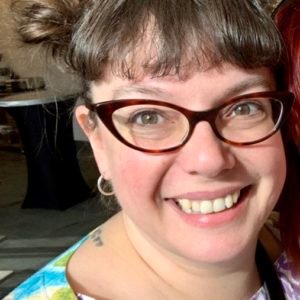 "By combining doula work, funeral education work, and celebrant work, families can benefit from continuity of care that no one else is offering," stated Angela Woosley of Inspired Journeys. (Photo submitted)[/caption]
By Angela Woosley,
651-300-0119
www.inspiredjourneysmn.com
Over the past month, the Coronavirus pandemic has upended our lives, and many of us are struggling to adjust to the new normal. Unemployment, job insecurity, health scares, and general anxiety are common features of life during this topsy-turvy time. But for many of us, this pandemic comes at the absolute worst time – at a time of grief.
If someone you love has died, whether due to COVID-19 or not, it may feel like the world is spinning out of control. It's common to feel out of sorts when we are grieving under normal circumstances, but with everything else we are experiencing, death of a loved one right now may feel like too much to handle. I want to offer some words of advice and comfort for those who need it most.
Take a deep breath
It's okay to slow down and take a moment to gather your thoughts. Death is not an emergency, so if you are having trouble sorting through your jumbled ideas, press pause. Think about your wishes for a service and what you know about the deceased's wishes for a service. Do you want burial or cremation? What kind of service do you want? Write your wishes down; sort through your thoughts over time. You can honor and remember your loved one the way you want, but it may look a little different. Be flexible with timing; don't let anyone rush you.
Hang onto these moments
There's a fair chance you were unable to be with the person who died just before their death. Most facilities aren't allowing visitors in order to keep patient populations healthy. You are not alone in this heartbreak. Perhaps you can ask staff to take pictures of your loved one – a picture of their face, a picture of staff holding their hand – either before or after death. If you are able to be with the person you love, take pictures together. Times like this can be a blur; pictures can help us freeze these moments to help us remember and work through our grief later.
Be present with your grief
When you hurt with grief, it can hurt so much you may wish you could feel anything else. Grief is a healthy, natural reaction to losing someone we love, and it's okay to sit with these feelings and experience them. Remember to eat and hydrate, then do what feels right. Light a candle, say a prayer, write a letter to them, draw for them, walk in nature, cry your eyes out, laugh your heart out, remember the best moments you shared. Share your grief with others and let them know what you need. Grief is not the time to be Minnesotan about it – ask people directly. They likely want to help but have no idea what to say or do. You're doing them a favor to ask for their help.
Adapt your funeral
Due to limitations on gatherings, you may be planning a simple service with only a few people present. Don't forget to include people remotely! With a Zoom meeting, Tribucast service, FaceBook Live, or other webcast/livestream service, you can include people from far and wide at the funeral. For folks who can't participate online, let them know when the service will be and ask them to light a candle or say a prayer at that time. Look at your list of wishes and see what you can include in a service now.
Plan for the future
Next, think ahead to the coming months. Eventually, guidelines about social distancing will relax, allowing you to hold a celebration of life that incorporates the elements you can't include now. To help you focus some of your energy (and possibly your feelings of grief), work on plans for that larger celebration of life now. Gather together their most treasured belongings, enlist friends to make handmade crafts, sort through photos for a video or picture board, make a playlist of songs, and find the perfect readings.
Advice you can ignore
One last note about planning: If your loved one "didn't want you to make a fuss" about their death and asked you to keep it simple, you are allowed to take that advice with a grain of salt. We come together to honor, remember, and grieve for the person we loved, but more than anything, grief rituals are for US, the living. Rabbi Earl Grollman might have said it best: Grief shared is grief diminished. Find those points of connection and share your grief with rituals that speak to your love and your loss. The person you have lost is worth it.
Angela Woosley is a trained mortician, educator, end-of-life doula and celebrant who recently started Inspired Journeys in the Twin Cities, the first of its kind natural deathcare provider.