By JAN WILLMS
Can Can Wonderland, the first arts-based nonprofit in Minnesota, is remodeling and adding space to its location at 755 Prior Ave. Opened in January 2017, the festive venue offers food and drink, mini-golf, a boardwalk of arcade games, and live music.
The arts-based entertainment center is adding 10,000 square feet, renovating its kitchen and expanding its menu. "That space includes traditional private event space, activities, and a 5,000–square-foot pop-up art installation that will open in the next few months," said Jennifer Pennington, Can Wonderland's CEO.
And along with the remodel, Can Can Wonderland has added a tap beer wall that opened about two months ago.
When the business first opened, it offered craft cocktails. "With the number of people we were serving, it just wasn't very good structurally," Pennington said. She said the volume of people resulted in the service being slow. "We realized we had to change our structure, and so we pivoted and our director of operations, John Newsroom, found these self-service beverage walls," she said.
"It's really cool because it provides people more choices."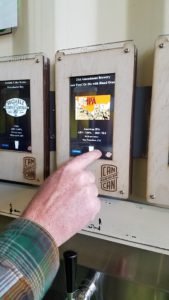 Photo right: "We have instructions right on the tap screen," Nicholson said. (Photo by Jan Willms)
She explained that if a customer is not sure he or she will like something, they can try it. "If you only want half a glass of wine, you can do that," she said. "So it gives you a lot of choices, and it benefits the bar team as well. They still get tips, and there is still a bartender there showing people how to pour and making recommendations."
The natural mechanics of the tap bar were installed through the Better Beer Society, a local group, and all the technology on the outside of the wall was provided by iPourit, a company with its headquarters in California. "The response to the tap wall has been extremely positive," said bar manager Tony Cutrone.
'"It's a different kind of interaction with the guests, something they are excited about. It's great to have a team that is excited as well," Cutrone continued.
"We get to offer a lot more beers," Pennington said. "We did not have any taps before; we just had beers in cans." She said that limited space resulted in limited beers being offered. '"Now we have 36 taps of beer, wine, kombucha, cocktails and cold press coffee." She added that the main bar is no longer just a craft cocktail bar, but a full-service bar. "You can come in and get a gimlet or martini or old-fashioned, and still get a craft cocktail."
Cutrone said there is a meter on the inside of the tap wall. "That hooks up to a tablet on the outside. That calculates how much you pour, essentially designs each tab. It charges by the ounce for how much you pour."
Pennington said the patron is also limited to how much he or she can pour in an hour. "So if they reach that limit they need to go talk to a bartender who can assess them, and see if they need some water or food first. We make sure we are not overserving," she said.
Cutrone explained that the cocktails at the tap wall are premixed.
"Every week we do a batch, depending on demand, eight to ten batches every week. They are pressurized and ready to go. I've never worked in a bar that premakes cocktails. It's great and makes things run smoother."
With the new technology, there have been some glitches, Pennington said. "Sometimes the lines had foam, so we had to figure it out, and now we can keep that under control. We also really need to do a good job of educating people on how to pour correctly. It's not straightforward if you're not a bartender."
Darren Nicholson, vice president of iPourit, agreed that is a challenge. "We don't have a lot of responsibility for it, but because we are a technology that fits into a beer dispense system, the challenge is patrons pouring their own alcohol." He said the average patron comes into an establishment and has probably never poured a beer before. "There is a trick to it. We have instructions right on the tap screen," Nicholson said. "There's some secret sauce to pouring a perfect pint."
He said another challenge from the perspective of iPourit is the market. "The market didn't exist," he noted. "It's a completely different mindset on how you operate a business, so it was kind of a challenge to get people to understand that."
He said iPourit was established in 2012 after its founders were out having drinks one night during a football playoff, and the bar was so busy they couldn't get a drink. He recalled the founder, Brett, who is in IT, said, "All I have to do is create a software platform that you can throw a credit card in and pour your own drink."
"Our first beer wall was installed in 2014 in Pacific Beach, CA, at Barrel Republic. Now the owner has three locations with tap walls, and a fourth going in. We have 128 location and over 3700 taps. It really is starting to take off," Nicholson said.
He said iPourit serves several different markets, concentrating on five. "We work with taprooms, fast casual, hospitality, corporate office and what we call urban living. Can Can Wonderland is a mix of all of them."
He said every person who checks in has to have a driver's license and credit card swiped. "We collect all the data: gender, age, and zip code. We report on every ounce that those demographics drink."
Nicholson said that across all the locations in the United States, the average pour size is 4.7 ounces; the average times a patron visits the beer wall is 5.5 times a visit. "So the average customer consumes 28 ounces of product, with an average price of 54.5 cents per ounce."
He explained that when an entrepreneur is looking at developing a business proforma and determining how many clients will be served, this process really helps define what the opportunity is because of all the data.
Pennington said that visitors to Can Can Wonderland have been very happy with the choices provided by the tap wall. Cutrone agreed, and he also considered the system to be very workable.
"The technology was intimidating at first, but actually it is a really simple and easy system to use."
Nicholson added that he has found the tap wall is a fascinating place to hang out and is very social.
"It can be hard to strike up a conversation at a bar, but people at a beer wall have an option to communicate with someone else they don't know, and they don't have to feel creepy about doing it," he said with a laugh.
Can Can Wonderland is open Thur., 4-11pm; Fri., 11am to 1am; Sat., 10am to 1am, and Sun., 10am to 8pm.