Some rent out driveways, others ask for residential permit parking districts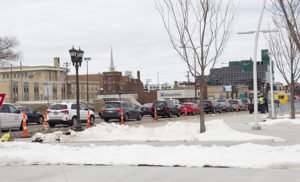 According to Allianz Field field general manager Justin Borrell, traffic flowed relatively smoothly on opening day. Similar to when an event is held at the Excel Energy Center, there were 40+ St. Paul police helping to manage traffic. Borrell said, "The number of police, fire, and emergency medical services employees did not affect the ability of these departments to respond to emergencies in other parts of the city." (Photo by Margie O'Loughlin)[/caption]
By Jane McClure
Allianz Field's first few Major League Soccer games have had a mixed impact on surrounding neighborhoods, in terms of parking and traffic. Some neighbors are already seeking expanded or new residential permit parking districts, in response to people filling streets with parked vehicles. Others have decided to make a profit, signing up to rent out their off-street driveways or parking pads to soccer fans.
Pre and post-game periods have brought heavy motor vehicle traffic on arterial and neighborhood streets, with traffic tie-ups north and south of University Ave. But Minnesota United FC's admonition to fans to walk, bike or use transit, shuttles, off-site paid parking lots for games apparently is being heeded. Buses and trains have carried full loads of passengers to and from games, with fans clearing out after games in about an hour.
Steve Linders, spokesperson for the St. Paul Police Department, said the first game went smoothly. Police, other city and team officials met to see what changes could be made before the second game April 24, 2019, and subsequent games
"The overall consensus was that the first game went well, considering it was the first time anyone had ever tried to move so many people into and out of the area at one time," said Linders.
Parts of the traffic plan were changed after the experience April 13. A U-turn at Snelling and Shields avenues will be closed before and after games. Barricades for a HealthEast lot that is rented to game-goers were changed to deter traffic from entertaining the adjacent neighborhood onto Shields. St. Anthony was opened without restrictions east of Pascals Street to aid local business traffic.
For pedestrians, the police department will park a squad car with lights on before the Simpson-University crossing to help pedestrians cross the street. Pedestrian barricades were added along Spruce Tree Dr. and Fry St. to improve pedestrian safety.
Linders said the city and soccer team would continue to make adjustments as the season goes on.
The spillover parking has vexed some neighbors. Snelling-Hamline and Merriam Park residents south of the stadium have started the process to create or expand residential permit parking districts. Those requests will eventually wind up before the St. Paul City Council for a vote.
Snelling-Hamline residents wish to expand Area 8, which currently includes Iglehart and Carroll avenues between the Asbury Street-Snelling Ave. alley, and Asbury from Iglehart to Carroll. The change calls for permit parking on Concordia, Carroll and Iglehart from Asbury to Pascal St. This is one of the city's oldest residential permit parking districts and was created in response to bus commuter park and rider spillover parking.
A second area would be a new residential permit parking district, calling for permit parking on Concordia Ave. from Pierce St. to Snelling, the north side of Carroll from Pierce St. to Fry St., Carroll from Fry to Snelling, east side of Pierce from Concordia to Carroll, and Fry from Concordia to Carroll.
More than 50 residents seeking permit parking attended a community meeting in April to seek the changes. One idea they liked is that of limiting permit parking to April through October, when soccer games are played.
"Everyone here is terrified that we're going to get swamped with parking," said Don Brabeck. He and his family live near Aldine Park. Neighbors are also hoping the park doesn't become a pregame party spot.
Doni Hamann lives in the area where residents want a new residential permit parking district. She and other neighbors said their streets filled quickly with spillover parking during the ticketholders' open house.
A check on parking and traffic before and after the first three games indicated that streets as far south as Ashland Ave. and up toward Thomas Ave. experienced game-day parking. Most area commercial parking lots were signed for no event parking or paid parking, with several businesses selling lot spaces.
New Midway Marketplace owners Kraus-Anderson sold spaces in the eastern part of their lot. Midway Super Target posted parking restrictions. The HealthEast lots didn't appear to fill up, but there was strong demand for park and ride at the Minnesota State fairgrounds.
One problem seen was that of motorists stopping in the middle of Snelling Ave. to quickly let people out, causing traffic to back up. Those drivers got warnings from police to use designated drop-offs in Concordia Ave. instead.