Compiled by ERIC ERICKSON, Social Studies Teacher
• Como Park senior William Farley received the Legion of Valor Bronze Cross award at a special ceremony attended by family, instructors, and peers from the Marine Corps JROTC. The Bronze Cross is an elite honor earned annually by just six exceptional individuals from over 5,000 Marine Corps JROTC cadets across the entire nation.
Farley's accomplishments in JROTC began during his freshman year and increased over time to include not just higher rank and distinction within the program, but also excellence in challenging academic coursework, extracurricular activities, and community service.
Farley carries a non-weighted GPA of 3.96 (4.39 weighted), has twice led a Como Knowledge Bowl team to the national JROTC finals in Washington D.C., has earned AP Scholar status, and is a member of the National Honor Society. He also qualified for the Minnesota State History Day, qualified for the Minnesota Personal Finance Decathlon State Competition, ran track and field, and had leadership roles in several service projects with the Boy Scouts in addition to JROTC and school initiatives.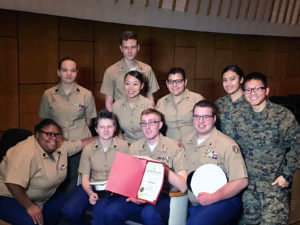 Photo right: Cadet Captain William Farley (center, holding certificate) earned the prestigious Legion of Valor Bronze Cross Award. With over 5,000 candidates from across the nation, Farley was one of just six recipients for the JROTC top honor. (Photo by Eric Erickson)
The proclamation read at the Legion of Valor Bronze Cross ceremony included roughly 40 other awards, achievements, and accomplishments. Farley's resume is extensive, and his uniform is highly decorated. But the quality most admired by both instructors and fellow cadets is Farley's humility.
When asked about his award, Farley's selfless attitude revealed itself. To him, the achievements and honors are a by-product of the experiences that were developed as part of a team. "I think truly the most wonderful experience I've had has been to be part of this second family," Farley said.
The support Farley has received from the Como MCJROTC, his teachers at Como, and his parents Dana Farley and Anna Otto will serve as a springboard as he pursues his college options. Like most Como cadets, he is not planning to join the military. The goal is to use the skills and commitment to excellence he's developed as a compass for succeeding in college, career, and life.
• Coordination between Como Academy of Finance (AOF) instructor Kris Somerville, Wells Fargo, and Junior Achievement's "JA Inspire" outreach program created a large-scale, impactful experience at Como for 370 students. On Nov. 15, over 40 volunteers from Wells Fargo visited Como for an all-day event. Freshmen spent time with mentors and learned how to network. Sophomores developed and refined resumes with the volunteers. Juniors participated in mock interviews and mentoring sessions. Seniors presented solutions to case studies developed by Wells Fargo.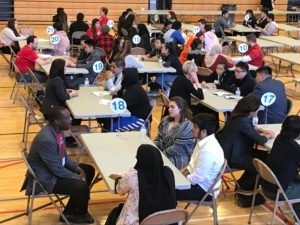 Photo left: Wells Fargo employees conducted mock interviews with Como Park Academy of Finance (AOF) students in the Como Gymnasium last month as part of the AOF Career Development Day. (Photo by Eric Erickson)
For AOF students who have been part of the Wells Fargo event before, the day was highly anticipated and did not disappoint. "It was a wonderful experience because the volunteers were really down to earth and gave me such great advice about how to improve my presentation," said senior Selena Vue.
For Wells Fargo volunteers, the interaction with Como AOF students was insightful and inspiring. One Wells Fargo team member, Derek Fried, said. "I have done several other volunteer activities with Wells Fargo, and this was far and away the most fun and most rewarding."
• Nine AOF students interviewed for and successfully earned marketing internships with the BrandLab. The mission of the BrandLab is to change the face and voice of the marketing industry by introducing, guiding and preparing students for careers in marketing and advertising.
Seniors who earned this opportunity were Kenneth Psalms and Curtis Love. Junior interns include Abdulaziz Ahmed, Leonce Corder-Campbell, Aleeyar Keh, Ong Vang, Paul Vang, Lisa Saechao, and Pang Dao Xiong.
• The Como Park Choirs will present the annual Pops Concert on Monday, Dec. 17 in the Como Auditorium from 7-8pm. The show will feature six choirs performing music from Moana, The Greatest Showman, Hamilton, The Tempest, and more. Admission for the Pops Concert is $2 for adults, $1 for students and senior citizens.
On Thur., Dec. 20, the choir will go on tour around the neighborhood to perform for elementary school students. The concerts will be held at Chelsea Heights Elementary, Hamline Elementary, and Como Park Elementary.
• The Chamber Singers and Concert Choir presented a musical based on Shakespeare's The Tempest on Nov. 8-9. High-quality performance by the cast and chorus pleased audiences and directors alike. Actors included Alicia Banks, Roan Buck, Wyatt Hanson, Willow Hollister-Lapointe, Areya Khue, Jo Ann Lane, Mai Lao Lee, Chandani Lor, Emilie Pagel, Lillian Rogers, Tobias Sax, Aspen Schucker, Lila Seeba, Ava Vitali and Kevin Yang.
• Advanced Placement Government students who will be representing Como in the national Close Up Washington D.C. program in March are raising funds to support their trip. Students will be bagging groceries for customers at the Maplewood Cub Foods on Rice St. and County Road B from 10am–8pm on Sat., Dec. 22. Cub customers generously support the effort of the students with donations that help defray the expense of the educational adventure. Community members interested in financially supporting students in the Close Up Washington D.C. program can also contact the trip coordinator at eric.erickson@spps.org.
• The Cougar girls' basketball team started the season in spectacular fashion with victories over Bloomington Kennedy, Mounds View, Robbinsdale Cooper, and Minnehaha Academy. The hot start catapulted the Cougars to the #6 ranking in the Class AAA state rankings as the Monitor went to press.
• Prospective students and families for the 2019-2020 school year are invited to Como's Showcase Night! Showcase is an open house format where students and families have a chance to learn more about academic and extra-curricular activities at Como. Showcase will take place on Tues., Jan. 15 from 5:30-7:30pm.