Medical ethics professor documents worldwide problem in book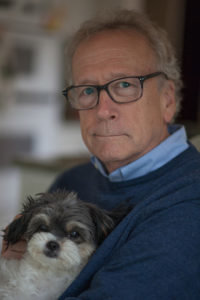 Does he see any hope for change? "I think so," stated Steven Miles. "Despite the rise of autocracies, human rights activism is also increasing. Social media has exposed torture in several countries with regime changing effects." (Photo by Ann Berget)[/caption]
By JAN WILLMS
In his recently published book, "The Torture Doctors: Human Rights Crimes and the Road to Justice," Steven Miles, MD, explores the paths of physicians who stray from their Hippocratic Oath and collaborate with dictatorships as well as democracies across the world to mete out pain and suffering.
Miles, who brings extensive research to his book, describes how medical professionals can prescribe torture methods that leave no marks, determine how much suffering an individual can endure and still remain alive, and how torture doctors have the power to falsify death certificates.
A professor emeritus of medicine and bioethics at the University of Minnesota Medical School, Miles previously managed the Doctors Who Torture Accountability Project and is a past president of the American Society of Bioethics and Humanities.
As a long-time teacher of medical ethics, Miles reflected in a recent interview on whether the subject is emphasized enough for medical students.
"It is adequate for death and dying, inadequate on contraceptive and reproductive rights, and inadequate on how the structure and personnel of the health care system contribute to class and race disparities," he said.
As he writes about the torture doctors, he describes horrendous cases of man's inhumanity to man, and yet these doctors seem able to push aside their ethics for what they consider patriotism and support of their government.
Miles said his research has shown that these doctors vary in their response to their own actions following a war or domestic revolution.
"Most justify their actions as necessary or patriotic," he said. "A few authentically atone. Some are badly damaged with PTSD or depression." His research follows the early Nazi doctors to doctors in more recent wars and revolutions in South America, Africa, and Europe and to the "enhanced interrogations" by the United States after 9-11.
Miles said he has interviewed torture doctors, but cannot comment on it because the proceeding is still ongoing.
Miles said in working on "The Torture Doctors," he spent 1.8 percent of his time writing and fact checking, .2 percent in production and 98 percent in research. "This book took seven years to write, on top of about four years for a preceding book, 'Oath Betrayed,' on U.S. torture doctors alone. That earlier book gave me a foundation for this one."
Why isn't profession holding these doctors accountable?
The accountability of torture doctors is a topic that Miles has thoroughly investigated. He suggests in his book that human rights activists have pressed more strongly than medical associations or criminal justice systems to hold torture doctors accountable for their actions. He claims this is clearly still true. "The major national and international medical associations and criminal justice systems pay virtually no attention to either holding torture doctors accountable or suggesting to subsidiary groups (such as licensing boards, professional associations or even clinical facilities) their potential role in accountability."
As far as what part an independent press can play in exposing the behavior of torture doctors, Miles said, "The roles of journalism should be to illuminate the problem of torture doctors, highlight the need for accountability, document impunity and publicize credible work of human rights activists identifying torture doctors."
Torture in the U.S.
Miles said torture is illegal in the U.S. prison system. "But there are events that the medical personnel participate in that are torture," Miles explained
"The medical participation in the drugging, restraining and non-vaccination of children in ICE prisons is often highlighted," he said. "Another is physician oversight of prisoners in prolonged solitary confinement. Those doctors note without protest the psychological destruction of prisoners, an event the United Nations and other human rights groups define as torture. Again, impunity for the doctors is norm."
Does he see any hope for change?
Miles has devoted much of his life to researching and writing about the global problem of doctors participating in pain, suffering and dehumanization of individuals at the behest of their governments, with very few of these doctors ever being brought to justice. Does he see any hope for change?
"I think so," Miles stated. "Despite the rise of autocracies, human rights activism is also increasing. Social media has exposed torture in several countries with regime changing effects."
He sees some optimism through his research that the international human rights community and the medical community can come together to end the atrocities perpetrated by the torture doctors.
His book is currently available on Amazon and at Barnes and Noble.