By JANE MCCLURE
The building boom continues along Snelling Ave. A 175-unit market-rate apartment building with first-floor retail could rise just west of the Allianz Field Major League Soccer stadium. Wellington Management, located in the Midway at 1625 Energy Park Dr., would like to start its $35 million project in spring 2019, the Union Park District Council land use committee and several dozen neighbors were told June 18. Construction would take about one year.
The building, which could be four to five stories tall, would continue a trend of redevelopment along Snelling Ave. It would replace the current Bremer Bank at 427 N. Snelling Ave., and possibly a small piece of the Minnesota Department of Transportation (MnDOT) property south of the bank.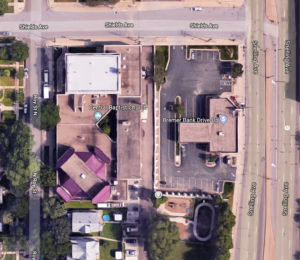 Photo right: Wellington Management is discussing the idea of a 175-unit apartment development on the site of Bremer Bank at Shields and Snelling—at the right of the photo. Central Baptist Church is to the left. (Google Map Satellite image)
The property eyed for redevelopment is zoned for traditional neighborhoods three use, which would allow five stories. Additional height could be granted through a conditional use permit process.
The St. Paul-based developer and property manager has discussed the project with bank officials and the adjacent Central Baptist Church for several months. Bremer would like to be part of the new development, as a retail tenant. One of the other prospective tenants is Walgreens, which vacated its longtime Midway Center space last year.
David Wellington, director of acquisitions and development for Wellington Management, cautioned that the project would have its challenges. He is seeking community input early on to mitigate potential issues. "The project could have significant neighborhood impact, and we're cognizant of those impacts," he said.
Wellington said the project could also bring needed housing to an area where residents could enjoy convenient access to Green Line light rail and A Line rapid bus. He emphasized that the project isn't intended to be luxury housing. "We will be marketing to a demographic that wants to live close to transit, and that really likes to bike."
Before joining the family firm, Wellington lived and worked in Seattle in real estate development. There he saw what gentrification can do to a community, citing the "significant and negative" impacts. The company would like to avoid that with its Snelling project.
Central Baptist Pastor Joel Lawrence said church leaders have discussed the development with Wellington for several months. The church, which just celebrated its 125th anniversary, has been at the southeast corner of Shields Ave. and Roy St. for 105 years.
Lawrence said the church wants to continue to be a community asset. But its oldest part of the building dates from 1913 and is nearing the end of its useful life. The church also lacks parking, with just four off-street spaces. The congregation currently uses the Bremer Bank lot for services. Continued shared parking and possible rehabilitation and reuse of the 1913 church building are among ideas being discussed.
Land use committee members and neighbors had mixed reactions to the project. Building drawings haven't been completed, so some said it was difficult to react to the proposal.
Several people praised the project for its proximity to transit. But some raised concerns about traffic, spillover parking and first-floor retail design. Representatives of a neighboring church, Bethlehem Lutheran in the Midway, also said they want to be involved.
Land use committee members questioned how a new drive-through would work. The bank currently has four drive-through lanes. But Wellington said drive-through service is important to both bank and pharmacy businesses and that the project may not happen if Walgreens isn't a part of it. It's not clear how many lanes would be in the building's first floor and how that would be designed.
The project would have about 18,000 square feet of first-floor retail, which could house up to four tenants. If Walgreens comes in, it would need about 10,000 square feet for its store, Wellington said.
But both Bremer and Walgreens would need drive-through service, which would add a wrinkle to the project.
MnDOT would be required to weigh in on the project as Snelling is a state highway.
Land use committee member Paul Bakke recalled the fight over CVS at Snelling and University. Neighbors pushed for windows looking out onto the street. But CVS balked, noting it needed wall space for merchandise shelves and cases. "What I am hearing here could be analogous to that," he said. "Windows are really important to adding life to the street and having a better pedestrian experience."
Wellington said that will be considered but that the developer will also have to work with specific national standards dictated by the retailer.
Parking is another issue. The development would have about 180 parking stalls. Underground parking is likely for residents. Ideas to provide surface parking are being considered.
One idea being discussed with Central Baptist is to remove two church-owned houses south of the church on Roy St. That could allow for the creation of parking to be shared by the church and the new development, possibly in a ramp. But neighbors at the meeting said that removing the homes would displace residents.
Wellington Management, Inc. owns and manages a $400 million portfolio of more than 100 properties in 23 Twin Cities communities, totaling more than four million square feet. The company has recently developed new housing, totaling about 800 new units. One project is near Hiawatha Ave. and Lake St. in Minneapolis. The company is also doing work in the Harrison neighborhood in North Minneapolis.
"When we build a building we operate it," said Wellington. "We care about what we build."