Photos by MARGIE O'LOUGHLIN
Once again, the Mid-Summer Festival at Lyngblomsten (1415 Almond Ave.) was a day to celebrate artistic exploration, life-long learning, and interconnectedness between people of all ages. This year's event was held on July 20, continuing an annual tradition that began in 1913.
Volunteer coordinator Shelli Beck said, "There is just no way we could put on a festival of this size without the help of our volunteers. This year we had 130 volunteers, and I can't say enough good things about them."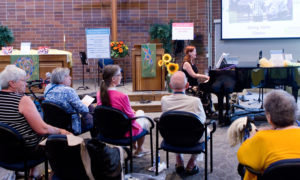 Photo right: Pianist/vocalist Paula Lammers provided one of the many indoor opportunities to view and hear artistic expression.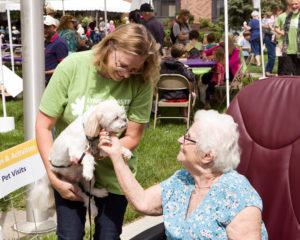 Photo left: Volunteer Judy Mueller (left) is part of the pet visitor program. Community members can bring their healthy pets to Lyngblomsten to visit with older residents, a connection which is believed to foster better health through joy, touch, and comfort.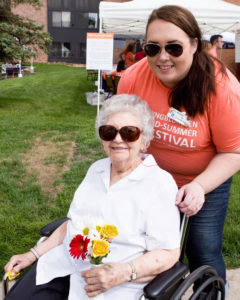 Photo right: Hermes Floral has been in business since 1906, the same year Lyngblomsten came into existence. They donated flowers to the Mid-Summer Festival, as they do each year.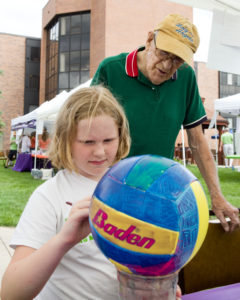 Photo left: Photo right: Wet Paint is a St. Paul-based art materials store. In addition to providing this inter-generational art activity at the festival, Wet Paint sponsors monthly artist talks at Lyngblomsten where community artists explain and demonstrate their art practices.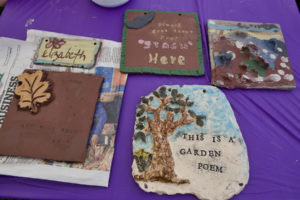 Photo right: Zoe Bird, creator of the Alzheimer's Poetry Project, partnered with Northern Clay Center this year. She helped visitors write poems, which were then stamped into clay tiles to be fired and picked up later in the week.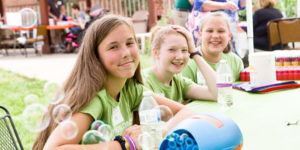 Photo right: Photo left: Volunteer Isabella Hall (left) said, "My friends and I, our moms all work here. We've been brought up volunteering, and we think it's a great idea."