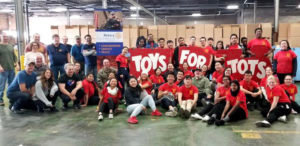 Como cadets from the school's JRTOC program volunteered six hours of their time at Toys For Tots on Saturday, Dec. 14. (Photo by Eric Erickson)[/caption]
Como junior Audrey Power-Theisen was a curator for a new exhibit at the Minneapolis Institute of Art. She worked with the museum staff to select and display the artwork for an exhibit in the Harrison Photography Gallery, which will run through mid-June.
Power-Theisen is an exceptional student who has also flourished in Como's art department. She has studied Beginning Photography, Advanced Photography and is currently thriving in AP Studio Art. Her teacher, Mr. Jason McIntyre, nominated her to be a curator and was proud she was selected.
"Audrey is an amazing artist and this opportunity allows her to see the process that museums go through to choose and display art in a world class museum like the Minneapolis Institute of Art," McIntyre said. "It is a very unique experience for a high school student."
13 Como students participated in the Youth in Government Model Assembly program at the state capitol from Jan. 9-12. The program gives high school students from across the state opportunities to serve as legislators, judges, attorneys, lobbyists, government officials and media representatives in the sessions that are conducted by the entirely student-led state government. It was an impactful experience for all of Como's participants, organized by Ms. Liz Paone, who teaches in the social studies department and the Academy of Finance.
Forty-two cadets in the Marine Corps JROTC gave their time and effort on Saturday, Dec. 14 volunteering in the Toys for Tots holiday drive. The program was founded in 1947 by Marine Corps reservist Major Bill Hendricks. Como's cadets have made service at Toys for Tots an annual event during the holiday season. This year's project was organized and led by Junior Cadet Sergeant Eh Say Htoo.
The Como Park Booster Club recently announced the recipients of its grant awards. The following programs and clubs will receive financial support based on their competitive applications: The Technovation Apps Club, Como Park Future Farmers of America Club, Close Up Washington D.C., Ping Pong Club, Black Student Union, Link Crew, Youth in Government, Counseling Department, and the Cougar Journal - Como's literary magazine.
The Booster Club grants help Como students expand access to a variety of programs, enhance and expand learning opportunities, gain leadership skills, attend events beyond the Como campus, and share their artistic expressions with Como Park High School and the community.
Prospective students for the 2020-2021 school year have been visiting Como throughout December and January, "shadowing" current students to see a day in the life of a Como student. If your student is interested in shadowing, contact Alexis Gray-Lawson who serves as a Parent Coordinator at alexis.gray@spps.org. Como's Showcase Night, an open house to learn more about academic and extra-curricular activities at Como, will take place on Jan. 28 beginning at 5:30 p.m. (see ad on page 6 in the Monitor.)