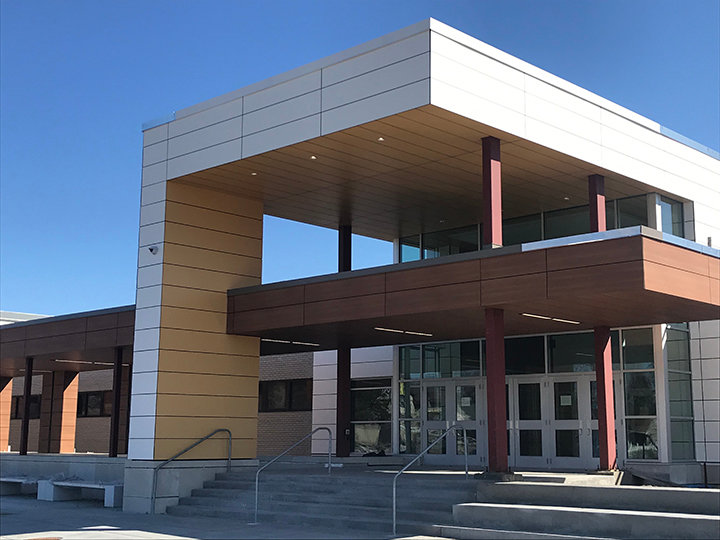 Como's new front entry was completed and opened by the beginning of March. During the coronavirus pandemic, buildings are closed and education has shifted to distance learning. (Photo by Eric Erickson)[/caption]
By Eric Erickson
Social studies teacher
In mid-March, educators across the state followed the executive order of Minnesota Governor Tim Walz to begin preparation for distance learning due to the dangers of the Coronavirus. At Como Park High School, staff intensely developed and modified academic content for an entirely new form of online instruction and delivery.
Before classes resumed in early April, I asked Como Principal Stacy Theien-Collins about the dramatic changes that have occurred and what she anticipates going forward.
How do you feel the students and families have responded to the educational disruption and change?
Our families have responded in a positive and supportive way, even with such unusual circumstances. The number of emails I have received with positive messages and well wishes to our team has been overwhelming. We all look forward to reconnecting with our students and families through our new distance learning model.
Could you describe the work Como staff has done in response to the Governor's executive order for distance learning?
Our Como team has been laser focused on being prepared to launch distance learning and I so respect how each and every member of our Como Park Senior High family has stepped up to meet the challenge. I am here to report, we are ready. We are ready to reconnect with our whole school community, we are ready to teach and most importantly, we are ready to listen to our students and learn what they need in this new learning platform. In addition to all the academic planning, we have been planning for the social/emotional needs of our learners.
What do you think will be the greatest challenges to the distance learning?
I think the challenges could be as diverse as our community. This is a brand new platform and we don't yet know what we don't know. I think our job will be to listen and learn and adjust to support all members of our community as we launch this new initiative.
How are you, as the building principal, handling the stress of this educational challenge?
This certainly is a stressful time for all of us and for many reasons. Besides worrying about our school community and planning, we are all worried about the news, our health, the health of family and friends. However, I believe all of us are using that to fuel our planning for our students. We have a strong team of educators and I know that we are ready.
During this unprecedented time, is there a message about Como you would like to share with the larger community?
It is important to me that our community knows how we are committed to support our learners through this unprecedented time. The uncertainty of the past few weeks and of what is to come makes me grateful that I am a part of the Como Park Senior High community. Our students, families and staff are the heart of our community. Together, our efforts will directly impact our success.