By JANE MCCLURE
Preserve industrial land or let a mostly underutilized building sit vacant? Those were the choices for the St. Paul Planning Commission. After much debate in February, the commission agreed Feb. 23 to a plan to convert a century-old West Midway meat packing plant into a 64-unit apartment complex. The commission approved a conditional use permit for Superior LLC's project at 2103 Wabash Ave. That decision is final barring an appeal to the St. Paul City Council.
"I'm usually the one who says, preserve industrial land," said Daniel Edgerton, chair of the Planning Commission Zoning Committee. But he was struck by the Port and Midway Chamber support of the residential reuse.
"This is really a challenging site," Edgerton said. "It's been underutilized for about 40 years. It seems like a choice of repurposing the property for housing or letting it sit vacant."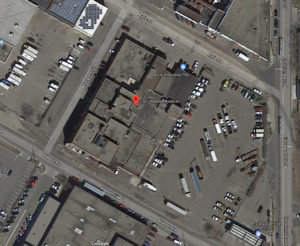 The old Superior Meat Packing Company building has been mostly vacant since 1979. Its first floor in recent years has housed uses including pet boarding, guitar repair and industrial tire sales and service. The oldest part of the structure dates from 1886. It was added onto in 1911, 1928 and 1947, so it has different floor levels and roof heights. Sections range from one to three stories in height. (Satellite photo right from internet)
Many more steps must be taken between now and June, when work is to start at the site. The developers need to seek historic designation for the property, and a possible spot on the National Register of Historic Places. That would provide state and federal historic tax credits to help pay for redevelopment.
Almost two hours of debate at the Planning Commission and its Zoning Committee Feb. 15 revealed the complexity of redeveloping the property. It is a 1.6-acre industrially zoned property that is one block south of Green Line light rail and one block west of Cleveland Ave. The building fills its block, which is bounded by Wabash, Montgomery Ave., Myrtle St. and a parking lot used by Rihm Kenworth.
The parking lot was recently purchased by American Engineering Testing, which plans a five-story building there. Rihm Kenworth is in the process of relocating out of the Midway after being there nearly 70 years.
"Our goal is to save and reuse a historic structure," said developer Clint Blaiser, who represented HGB and PAK Properties before the Zoning Committee. The developers are trying to get work underway by June, before changes are made to federal historic tax credits needed for the project.
The conditional permit approved Feb. 23 is to allow residential use in an industrial area. It allows more than six dwelling units on an industrially zoned property. Plans call for 39 dwelling units on the first floor. Typically, when residential uses are allowed in an industrial area, those are on upper floors.
The permit also allows 90 percent of the first floor to have residential use. Typically, 80 percent of the first floor would be for non-residential uses.
Blaiser said different ideas were considered for the property, including industrial or commercial reuse. But the building's configuration makes 100 percent residential use most feasible. "It has about 30 roofs and about as many elevations inside," Blaiser said.
"It's basically a historic shell," said Rich Wessling, project architect from UrbanWorks Architecture. But he and Blaiser said it makes more sense to gut and rehabilitate the building, than to tear it down and build new on the site. They see the building as being affordable for young families and workers who want easy access to light rail, bus service, and area amenities.
The building is in very poor condition, said Blaiser. But it appeals to the developers because of its location in West Midway, where several other old industrial and warehouse properties have been repurposed for residential, commercial and institutional uses.
The property is in an area that has had different types of industrial zoning over the years. Property to the north was rezoned for industrial-transitional use in 2011 as part of Central Corridor (now Green Line) land use and zoning studies.
Beyond the zoning issues are practical considerations for residential reuse. One is that the building occupies its block. It is in an area with no sidewalks. Streets carry large amounts of truck traffic. Those were seen by city staff and some commissioners as impediments to residential reuse. One idea suggested is to vacate the adjacent portion of Montgomery and create more of a walking, biking and parking area.
Another point of debate is a city and St. Paul Port Authority policy to preserve existing industrial property, as outlined in the West Midway Industrial Area Plan. But the St. Paul Port Authority and Midway Chamber of Commerce support the Superior LLC project, as does the St. Anthony Park Community Council.
Both business groups note that the property has been underused for many years and that other developers have considered ideas without bringing anything to fruition. John Young, a Midway Chamber Board Member and industrial real estate broker, said the site has been looked at and rejected by many would-be industrial developers. "It was awful years ago," he said, noting that the property has gone unsold during several successful real estate cycles.
The Chamber doesn't take the notion of losing industrial land lightly, Young said. But a residential redevelopment there may be the best fit for the property. "We want places where our employees can live."
The developers took the unusual step of filing three applications, with the idea of getting at least one approved. The one approved leaves the industrial zoning in place, but grants conditions for largely residential reuse. The commission laid over a request to rezone the suite to industrial transitional and rejected a variable request that tied first-floor industrial use to rezoning to industrial transitional use.
City staff had recommended against all three applications for a variety of reasons, including inconsistency with the comprehensive plan and impacts on area development. Much of the Zoning Committee debate Feb. 15 was technical and procedural, as all eight Planning Commission members present want to see the building repurposed. Sorting that out took time.