Como Park Senior High School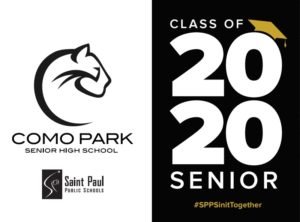 Yard signs to honor Como's Class of 2020 will soon appear in the neighborhood.[/caption]
By Eric
Erickson
Social studies teacher
With schools closed through the remainder of the school year, spring of 2020 will certainly be unforgettable. The harsh loss of shared celebrations for graduating seniors will guarantee that.
Rites of passage including final concerts, awards ceremonies, prom, graduation, the all-night senior party, and even the entire spring sports season have been cancelled due to the coronavirus.
Distance learning is keeping academic growth possible, but predictably, the personal relationships that students and staff enjoy are sorely missed.
Hundreds of Como students will conclude their college-level course studies with Advanced Placement Exams between May 11-May 22.
AP Exams are traditionally taken on site at schools across the nation during the first two weeks of May. This year because of COVID-19, the College Board will be administering online exams for students to take at home during specified times in each subject area.
The rollout of a plan to make testing accessible yet safe is appreciated by students and teachers, but also comes with uncertainty and stress. Anticipating there may be technology glitches, the College Board has reserved the first week of June for make-up exams in case of uploading errors or issues.
Testing formats will be altered with only essays in a shortened timeframe instead of a combined three-hour exam including multiple choice and extended writing. In all, 294 Como students will be taking a collective 529 AP Exams across 20 different subjects.
Shar Too earns Athena Award
The cancelled spring sports season has left hundreds of Como student athletes without the opportunity to pursue their passions and make memories with teammates. Traditional end-of-year banquets and ceremonies have also been scratched from the usual schedule, although honors have still been awarded.
Como senior Shar Too earned two special distinctions for her achievements. A four-time all-state soccer player for the Cougars who became the St. Paul City Conference's career scoring leader, Shar Too was selected as Como's Athena Award winner.
Shar Too was also a stellar badminton player for the Cougars, helping the squad to third-place state finishes in 2017 and 2018. In the classroom, she achieved a 3.59 grade point average (4.12 weighted) and earned several academic honors during her four years including a State History Day qualification.
Shar Too was also chosen as one of just six finalists for the St. Paul Downtown Lions Club Athlete of the Year. The club selects its honorees from all the high schools in Ramsey, Washington and Dakota counties. The elite recognition has been humbly downplayed by Shar Too. She will be a first-generation college student next fall at Bethel University.
Como's graduation ceremony will still be held at its originally scheduled time of 5:30 p.m. on Monday, June 1, but it will be "virtual." A plan is being constructed in accordance with St. Paul Public School directives.
While there is no way to replicate what students and families always anticipated, one small gesture to try and celebrate this special senior class prior to their commencement includes yard signs for each graduate.