By JESSICA KOPP
After five years of sharing a space with Hamline Elementary, Jie Ming Mandarin Immersion Academy will begin the 2018-19 school year in a new space. Hamline Elementary and Jie Ming Principal Bobbie Johnson will move with the program she created to the former Homecroft Elementary building, 1845 Sheridan Ave. We wish her and the whole Jie Ming community all the best in their new home!
With Johnson's departure, Hamline Elementary welcomes new leadership to the building— well, kind of new leadership. After three years as Hamline's Assistant Principal, Kristin Reilly will become Hamline's new principal and Jamal Abdur-Salaam will join our community from John A. Johnson Elementary as Assistant Principal. We're fortunate to have these talented and experienced leaders guiding Hamline's next chapter.
And speaking of that…
In many ways Hamline Elementary will feel like a new place in the Fall. Some classrooms will move to other parts of the building and two of our community partners, The Hamline to Hamline Collaboration and Reading Partners, will have larger, dedicated spaces to continue and expand their outstanding programming. The Family Resource Room will move closer to the main entrance and into a room twice its current size, and other open classrooms may house a maker-space and sensory room.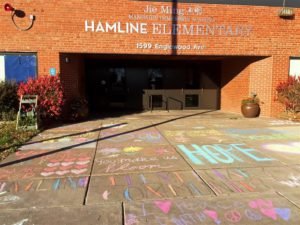 Photo right: Members of the Hamline community fill the front walks of the Hamline Elementary with messages of love, support, inclusion, and belonging. (Photo provided)
Early Childhood and Family Education (ECFE) will return to the Midway at Hamline Elementary with full programming beginning in Fall 2018. Watch their website (www.spps.org/ecfe) for updates and check your mailbox for the ECFE course catalog coming soon—registration begins in July.
Our other partnership work continues as we connect with local non-profits, small businesses, and community members to bring family and youth-supporting programs into the school.
Hamline Elementary and Hamline University have been hard at work to expand their current partnership (The Hamline to Hamline Collaboration) to build dynamic and innovative learning opportunities for students and increase support and development for staff. The energy behind this work is beautiful and inspiring. There will be more to come about this new development.
You can keep up with Hamline Elementary this summer at Discover Hamline Elementary on Facebook, on Twitter @HamlineElem, or on our website at www.spps.org/hamline.
For information about enrolling at Hamline Elementary, contact the SPPS Placement Center at 651-632-3760.