By MARGIE O'LOUGHLIN
Dr. Deanna Thompson, a professor of religion at Hamline University for 22 years, released her fifth book last month, entitled "Glimpsing Resurrection: Cancer, Trauma, and Ministry." The launch party in August drew together colleagues, university administrators, cancer patients, religious leaders, chaplains, health care professionals, family, and friends.
Thompson said, "My new book explores what it's like to be undone by cancer, and how the lens of trauma enables us to better understand the long-lasting emotional, psychological, and spiritual effects of illness."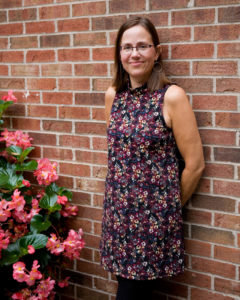 Photo right: Dr. Deanna Thompson of Hamline University said, "In the future, there's hope that a Stage IV cancer diagnosis won't be a death sentence. As a patient with incurable cancer, the question for me is 'How do I live with cancer?" not 'How do I beat it?'" (Photo by Margie O'Loughlin)
In 2008, Thompson was diagnosed with Stage IV breast cancer, despite having up-to-date mammograms and lacking the gene for breast cancer. Stage IV, or metastatic breast cancer, are terms used to describe an advanced stage where cancer has spread from its original site in the breast to other tissues and organs in the body. Before receiving her diagnosis, Thompson's breast cancer had metastasized to her spine—mysteriously breaking not one, but two, of her vertebrae. She has spent the last ten years thinking, writing, and talking about how cancer and faith might co-exist.
"Eighty percent of people with metastatic breast cancer live only five years after diagnosis, and I'm on year 10," Thompson explained. "There's hope that, in the future, this will be experienced more as a chronic condition, like diabetes. In the meantime, I'm passionate about helping those who are living with cancer and other serious illnesses expand the way they tell their stories."
While researching her book, Thomson learned that the vast majority of cancer patients display two or more persistent symptoms of trauma. Yet, the most recent mental health diagnostic manual (called the DSM-5) refers to serious illnesses like Thompson's as part of the "normal vicissitudes of life."
To hear Thompson tell it, there was nothing "normal" about what she experienced in the last ten years. "At the age of 42, I had to resign from my full and beautiful life: I was the Religion Department Chair at Hamline University, actively engaged in school activities with my two young daughters, and suddenly I felt like a spectator in my own life. I couldn't imagine myself in a year, let alone five years. Going through the worst parts of the treatment, I was just trying to survive," she said.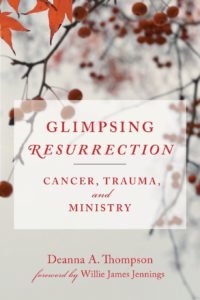 Photo left: "Glimpsing Resurrection: Cancer, Trauma, and Ministry" can be purchased at the Hamline University Bookstore, and at Amazon.com. (Image from Amazon.com)
Thompson is a researcher, an author, an educator, and a theologian. "I still have a lot of questions," she said, "many of which probably won't be answered in this life. I'm learning to live with those spaces of irresolution. I have a daily practice of reading the psalms now, even if I feel I can't talk to God sometimes. There are 150 psalms in the Bible, and 60 of them are laments. For people of faith who are turning to God in times of illness, there can be a sense of guilt for being angry at God. I believe that lament, argument, and protest are all faithful responses."
She concluded, "Initially, I felt like I had experienced a resurrection. I thought I was going to die, and then I lived. Now, I've been living this way for quite a while. As the science of medicine evolves, we're keeping people alive longer. If you're one of the lucky ones who survive, then what? One of the scariest things for me was signing up for my life a second time because I know that I might have to resign again. Medical professionals and people working in pastoral care could benefit from this understanding of trauma and serious illness.
For information on upcoming, local speaking engagements visit www.deannaathompson.com.
"Glimpsing Resurrection: Cancer, Trauma, and Ministry" can be purchased at the Hamline University Bookstore, and at Amazon.com.