By MARGIE O'LOUGHLIN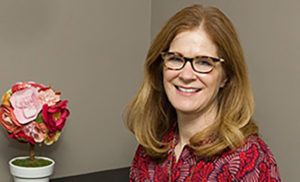 Jane Graupman, executive director of the International Institute of Minnesota, said, "We're really excited to raise our profile in the neighborhood with our building renovation and expansion. We're grateful to be part of a community that supports immigrants and refugees, and wants Minnesota to be a welcoming place." (Photo by Margie O'Loughlin)[/caption]
When the International Institute of Minnesota started serving the local immigrant population in 1919, World War I had just ended – and immigration patterns looked very different than they do today.
The Institute's executive director Jane Graupman said, "Where people come from has changed over the years, but their desire for opportunity, education, jobs, freedom, and safety have not changed. We remain committed to our original mission of helping immigrants and refugees achieve full membership in American life."
The Institute has partnered with Ramsey County Historical Society to present an exhibition called Unity without Uniformity: Celebrating 100 Years of the International Institute of Minnesota. On view at Landmark Center in downtown St. Paul until Dec. 20, 2019, the exhibit celebrates the communities of new Americans who have shaped Minnesota into a strong multicultural state. The panels are a reflection of the immigration story in Minnesota, and show who has come here since 1919. The exhibit is free and open to the public during Landmark Center hours.
Graupman explained, "While we have much to celebrate, there are also reasons for concern. The federal refugee resettlement program is at an all-time low right now. Every year, the American president makes a declaration of how many refugees can enter the US during the federal fiscal year. We believe that the low ceiling for incoming refugees in the current administration is very short sighted, and will impact our future economy in America."
Although the refugee count is down, the number of immigrants arriving in Minnesota is up – resulting in increased demand for the Institute's services, especially in the area of workforce development. Graupman said, "Immigrants create a lot of jobs here: they can be everything from entrepreneurs to engineers to laborers. Our graduates make excellent employees. There are currently 100+ employers in the health care industry that hire our graduates. Immigrants today speak better English than those who came in previous decades. They have more education, and are able to integrate more easily into American culture."
The Festival of Nations has been the Institute's most visible event in the Twin Cities for 87 years. The annual event is held the first weekend of May, and just concluded for this year. It draws tens of thousands of visitors to the RiverCentre to celebrate the rich cultural diversity of Minnesota.
Graupman said, "We welcome new immigrant groups to participate every year to reflect our changing community. We've kept it going for so long because we include everyone. This year there were nearly 100 ethnic groups represented."
As the Institute's programming and events keep expanding, it's also time for their building to grow; they've had the same address for nearly 50 years. The Institute has raised $4,000,000 in private donations toward their capital campaign goal of $11,000,000. They plan to renovate their existing building and add a 17,000-square-foot addition. Half an acre was recently purchased from the Minnesota State Fair, making the westward expansion possible.
Graupman said, "Early on in the visioning process, we started asking our clients, 'Should we move?' They resoundingly said, 'No!' We love this neighborhood. Everyone feels safe here, and even though we're not on the LRT, we're on a great bus line and it feels very accessible."
Graupman explained, "Our $5.5 million capital request is part of this session's House omnibus bill, where a lot of funding requests are bundled together. If our request for state funding isn't met this year, we're hopeful that it will be in 2020. During a recent capital investment hearing, one of the representatives did some quick math and said, 'You'll pay back the state in three years with all of the new tax-paying employees you'll create.'"
The Institute is located at 1694 Como Ave., just west of Snelling Ave.. Hours are Monday to Friday from 8:45 a.m.-5 p.m., some evenings when classes are in session, and Saturdays by appointment.