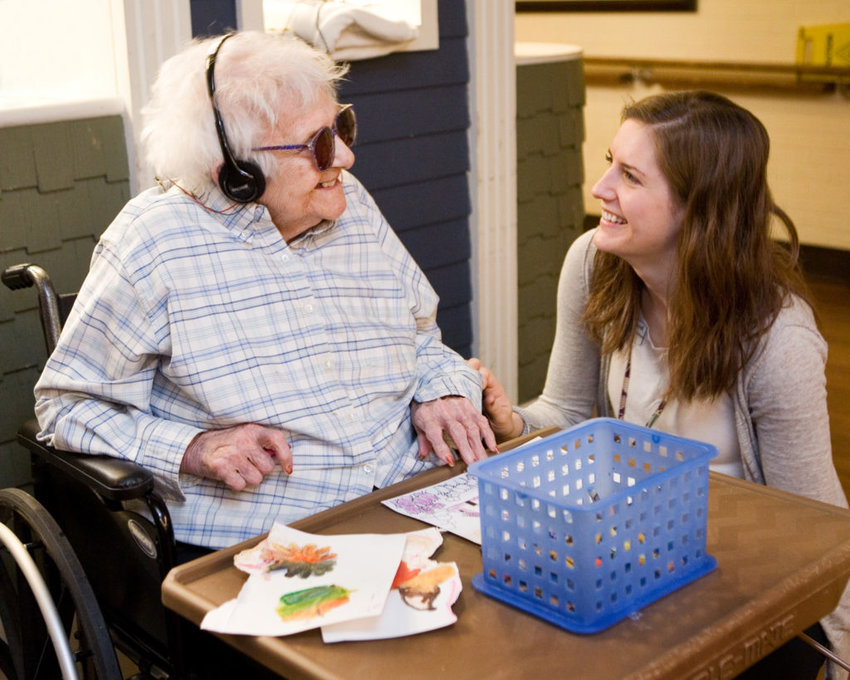 Therapeutic recreation coordinator Emma Flotterud (pictured right) brought a Lyngblomsten resident her personalized iPod for music enjoyment. The Music & Memory program has been implemented at Lyngblomsten for two years. (Photo by Margie O'Loughlin)
By MARGIE O'LOUGHLIN
Music & Memory is the name of a national non-profit organization started in 2010. Grounded in research about how the human brain responds to music, the Music & Memory program puts the healing power of music to therapeutic use by bringing iPods loaded with personalized playlists to people with dementia and other forms of cognitive loss.
The Lyngblomsten Care Center in the Como neighborhood brought the program to their residents two years ago. According to Music & Memory co-director Shelli Beck, "Our goal is to have an iPod available for each of the 237 residents in our Care Center. We believe that by having them choose music from their past, they feel more connected to their memories, to their lives, and to each other."
Therapeutic recreation coordinator Emma Flotterud explained, "The reason these connections work is because of how music memories are stored. I've seen Parkinson's patients who can't speak without stuttering, but they can sing a song from beginning to end with no problem. We've had patients who don't speak or tend to speak only in whispers, and they can sing a long-remembered song at normal volume."
While the program may sound simple, its benefits are substantial. In addition to being an enjoyable pastime, listening to music has been shown to awaken memories from the past, lessen reliance on certain medications, and enhance social skills. Initially designed for persons with Alzheimer's disease and other forms of dementia, Music & Memory has been used successfully with older adults suffering from chronic pain, anxiety, and depression.
Flotterud explained, "As a health care professional, my goal is to try non-pharmaceutical interventions before medication. There may be a need for medication for some dementia patients, but there are many alternatives worth trying—and Music & Memory is one of them."
Another reason for the program's success is the volunteers at Lyngblomsten who help make it happen. Como resident (and Central High School junior) Andrew Tisell is one of them. "As soon as I could, I signed up to be a volunteer here," Tisell said. "When I was 12, I started playing the piano for sing-alongs. Three years ago, Shelli Beck approached me about wanting to bring in the Music & Memory program. I was intrigued. Being a classically trained cellist and pianist, I love listening to music, and I thought it would be a chance for me to broaden my musical understanding. Initially, we started out with a handful of CD's and began a music library of our own."
"My first involvement," Tisell continued, "was programming the iPods, and writing a manual so that other people could understand how to do that too. Then I started doing interviews with residents about what kind of music they liked, and how music has been part of their lives. I think Music & Memory is an amazing program—the science behind it is proven. When someone starts to experience memory loss, the part of their brain responsible for music memory is the last to go. Music brings back memories in ways that nothing else can."
The model of iPod that Lyngblomsten prefers for their residents is called the iPod Shuffle. It is no longer manufactured, so gently used donations are the best way for them to grow their inventory. There is a donation box in the front lobby located at 1415 Almond Ave. iTunes gift cards are also appreciated. Contact Shelli Beck, Music & Memory co-director, with inquiries about volunteering at sbeck@lyngblomsten.org.