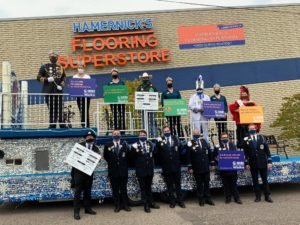 Facing a global pandemic, Hamernick's has shifted its business model to add a flooring superstore across the street from its main design headquarters (1392 Rice St.).
They were listening to customers who have shifted their focus to improving their homes instead of traveling during the COVID-19 pandemic.
Hamernick's has been a part of the North End community for 74 years, and also has two warehouses in Roseville.
Ted Natus was driving back to Montana from a job picking cotton down South in 1967 when his car broke down in St. Paul. "Out of money, the young vagabond decided he needed a job," according to Amy Mauzy of Hamernicks. "Although he'd fought forest fires and mined for copper since leaving home at age 14, he settled on a paint store job at Hamernick's on Rice St. Natus worked his way up to owner when he bought the store from Ed Hamernick in 2000."
The main design headquarters has been on Rice Street since 1946. "It has grown from a paint and residential decorating store to a multi-million dollar business focusing on commercial flooring and paint contracting. Customers include individual home owners, multi-family business owners, and some of the largest general contractors in the city as well as some of the largest single-family home builders in the country," said Mauzy.
Learn more about how Hamernick's is managing the pandemic below.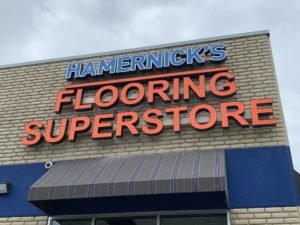 How has COVID-19 changed how you operate?
Mauzy: We responded to COVID-19 in a number of ways all designed to provide safety for our clients and staff. When the pandemic hit this spring, most customers chose to stay home and shop virtually for their new flooring or other design product on our web site: www.Hamernicks.com. They would browse the site, and call us to ask us to ship a carpet or tile sample directly to their home or business. If they liked it, they could place an order for installation. This late summer and fall the foot traffic has come back somewhat, but we still have customers who choose to shop online.
From our design and in-office team to our warehouse workers to our flooring installers, all staff are working in a socially distant atmosphere wearing masks and sanitizing their work areas on a consistent basis.
What trends do you see right now?
Hardwood flooring is one of the most popular flooring solutions taking place right now. The #1 rule local real estate agents tell home sellers is to install hardwood floors before they place their home on the market. Buyers will walk away from homes with bad flooring the same way they'll walk away from homes that smell bad, or have little to no curb appeal. Flooring matters tremendously when selling a home. It immediately influences if the buyer will like the house as they walk into every room and hallway, kitchen, and even exterior patio.
Also, many homeowners who have spent significant time at home because of the COVID-19 pandemic have put the time to good use by starting or finishing home improvement projects. A major benefactor was Hamernick's as we were a major company in town that remained open and sold, installed carpet, hardwood, tile floors and similar surfaces.
We made the decision to open our Flooring Superstore based on the need that we saw coming this summer.
Ted Natus, owner of Hamernick's Interior Solutions and the new Flooring Superstore said, "Luxury vinyl tile and plank is the hottest flooring trend in home decorating and remodeling. No flooring company in Minnesota, and specifically the Twin Cities, was stocking such a wide variety of product and selling it directly to consumers. We transformed our former Mill Direct Warehouse into a showcase for over 100,000 square feet of flooring that can be purchased and installed immediately. Traffic has been brisk since opening the first week in October.
What sets your business apart?
Hamernick's new Flooring Superstore (open now at 1392 North Rice Street) is the only flooring company in Minnesota to showcase the largest selection of in-stock vinyl and plank flooring.
Even though commercial flooring and painting is considered to be a male-dominated business due to the manual labor implications of the work, we have woman and minorities in nearly all positions across our business. Our current workforce represents 21% women and 18% minorities.
Both Ted and wife Lynn are long-time supporters of Saint Paul. When everyone asked, "Why would you build on Rice St.," Ted's response was that Rice St. and Saint Paul have been very good to us and our family so why wouldn't I build here? As a result, Hamernick's has grown to become one of the largest businesses on Rice St. and plans to continue growing for many years to come.